Studies have revealed that some people become more aggressive or angry after consuming too much alcohol. Even calm and reasonable people can quickly turn violent when intoxicated. Any violent confrontations due to intoxication in your bar can lead to third-party property damage or personal injury claims. This is where assault & battery insurance comes into play. Read on to learn why your bar needs this coverage.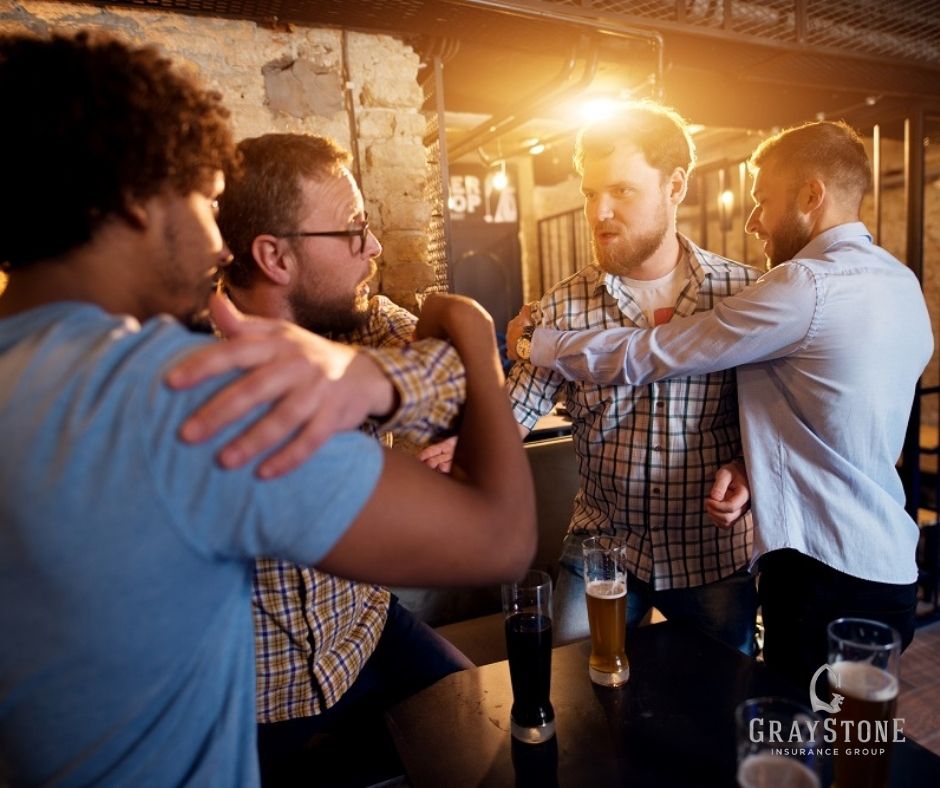 What's Assault & Battery Insurance?
Assault and battery insurance cover emotional and physical injury resulting from altercations between patrons on your premises. The assault part covers verbal and physical threats to your customer's safety, while the battery component covers physical injury resulting from unlawful touching or hitting the victim. This policy covers:
Your legal costs
Medical expenses emanating from covered personal injury
Any settlements resulting from a covered claim
Potential claimants can be
Patrons who are involved in a confrontation
Anyone injured due to the confrontation
Injured employees, for instance, bouncers who are caught up in the confrontation.
Why Are Bars Liable for Injuries?
If drunken altercations on your premises lead to injuries, your establishment can be held liable because it provided alcohol. You may also be liable for injuries to a patron or bystander resulting from your employees' intervention in an altercation. For instance, if your bouncer injures a patron while calming down a violent fight, the injured patron can sue you for physical injuries, medical expenses, and lost wages.
Extent of Coverage
This type of insurance covers the following incidences:
Bar fight injuries – If a patron is injured in a physical fight on your premises, your assault & battery insurance can cover the damages.
Mugging – If your customer is hurt due to a mugging incident when leaving your bar, assault & battery insurance can cover the loss. This coverage covers attacks that occur at your doorway, parking lot, and other areas within your premises.
Emotional trauma and non-physical violence – These include aggression and threats that cause mental suffering. Other traumatic acts such as unwelcome sexual gestures, leering, and humiliation are also covered.
Harassment and sexual assault – Covered sexual harassment claims include forced kissing, grabbing, fondling, and intercourse. This insurance also covers noncontact occurrences like unwelcome sexual commentary and exhibitionism.
Does Your Bar Need Assault & Battery Insurance?
If your enterprise is exposed to injury claims and lawsuits emanating from the above incidences, you should consider purchasing special insurance protection. Talk to our experts about your risks, and we will help cover them with the right policy. In addition, you should consider carrying specialized liability insurance if:
You serve alcohol – you can be held partly responsible for claims and injuries resulting from squabbles involving your intoxicated patrons in your premises. Your assault & battery coverage can cover this liability.
Many people frequent your premises – Hosting many patrons in your liquor joint exposes you to many liability risks. Verbal and physical confrontations can occur when intoxicated individuals are in the same space.
You've hired bouncers – Your security personnel may be forced to expel an unruly customer out of your premises. Someone may be hurt in the ensuing chaos, and your business may be held liable for the injuries. Insurance can cover the injury claims, regardless of whether the claimant is a rowdy patron, one of your bouncers, or a bystander.
At GrayStone Insurance Group, we know what it takes to protect your bar, and our bar insurance policy is designed to cover you against a wide range of liabilities. Contact us today to get the coverage you need to protect your liquor business!